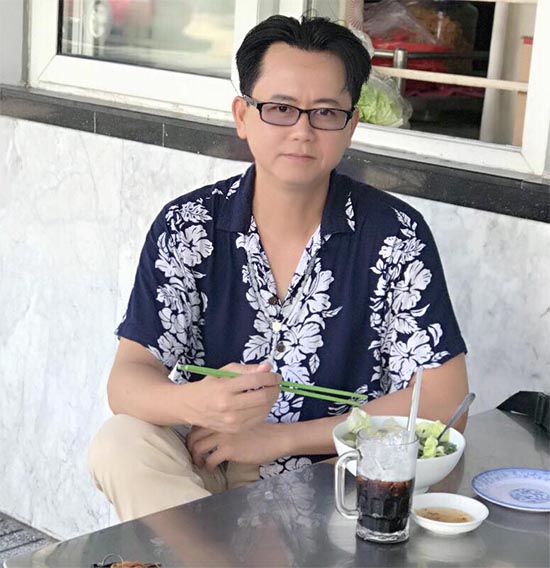 A way back to Motherland after 30 years of an Expatriate son
Hello everyone. I am Tony. I have lived in the United States of America for 30 years. Each cold winter passes, each spring comes, each season keeps passing by and coming again, yet I still wish to return to my motherland. Though my busy life in the US has prevented me from doing so until now. It was a slow wait for my chance to return, to say the least. At the end of 2019, I arranged to return to my motherland, Vietnam. Every day I tore off the calendar pieces, I counted down every day, I was excited just like a child being taken out for a vacation from his mother. The sleepless nights I had as I awaited for the day of the flight were countless as I fumbled with any distraction I could find.
The luggage I brought back to Vietnam was similar to what other oversea Vietnamese would bring. But the most special thing I brought back was my heart, and the Vietnamese blood flowing inside my body.
Then that day finally came and my friend drove me to the American airport. I couldn't even sleep last night. All I could think of was the images and memories of the place that would forever be my home. We were on an American route, and my heart could not be described as it pictured the memories from my childhood back home.
I held a plane ticket in hand for a long flight transited in Narita, Japan, and the mere sight of the word "Vietnam" on the ticket brought me an insurmountable amount of joy. All of my thoughts were of my home, I was finally flying, and in only a few more hours I will be in Vietnam. I was in a dream-like state, completely lost in a state of unconsciousness, my ears buzzed, my eyes closed. My mind reminisced my life in the past, 30 years ago.
In the 1990s, I migrated with my parents to the US. Born in Saigon (SG), but my childhood spent mostly in Long An – the west of the river in Vietnam. I went to an elementary and middle school in the village. For high school I went to Tam Vu town to study at Nguyen Thong High School, Chau Thanh District, Long An Province. So when I first came to America, I missed my homeland so much! America is rich and great, beautiful shimmering as a paradise that I have long dreamed to be in! So I worked and studied all day. But every night,, I sobbed, and torment-filled because I missed the rural village I called home.
I missed my first love which was as beautiful as the sixteenth moon, I missed my old school, missed my teachers, missed my friends. I remembered the little house where my family and I resided, it was built with old pillars, covered with coconut leaves, next to the gentle river, with cork, rows of water coconut leaves leaning to reflect at the riverside. I remember the muddy dirt road after heavy rains. The two sides of the road are decorated with a vast green color of rice fields at the base of clouds. Every noon, the wind from the other side of the river blows back, bringing with it the faint scent of Sesbania sesban flowers, the scent of flowering rice. I remembered the bustling country market every morning I used to buy sweet potatoes, cassava, and corn to eat on the way to school.
When I finished my bachelor degree, I began to work in America. As time passed, I missed Vietnam more. Especially when Vietnam (VN) had an internet connection, many people put videos of Vietnam on Youtube, I could only imagine what walking through those busy cities could be like, what it would be like to breath in those all too familiar but now absent scents, etc.
I remembered that when Vietnamese Lunar New Year came in, I craved the New Year's atmosphere in Vietnam, to hear the sound of firecrackers, the sound of New Year wishes. In the US, I buy green bean sticky rice wrapped with New year cake, make stewed meat, make pickles, then I also buy a cherry blossom tree to decorate the house to be similar to Vietnam New year. But for many years I realized that no matter how much I tried to bring all the flavors of Lunar new Year from Vietnam to America, it wasn't the true Vietnamese experience. It lacked laughter, affection from parents, brothers, sisters, neighbors, friends.
When the flight attendant announced that we were about to arrive in Vietnam, I awoke, my eyes widely opened, against the window of the plane. What was I looking for ? What am I looking for from those nine-levels of clouds above? I am returning to my homeland, to the past, to the reality.
When the plane was slowly landing at Tan Son Nhat airport, my heart beat was silencing nearly everything out. I was in Vietnam, it was finally a reality. I wanted to cry, I wanted to scream loudly to get rid of the lump in my throat. As the plane got closer, the plane's wheels hit the ground, I wanted to fall to my knees and I got a feeling that I was in the country I finally belonged to. Vietnam
The farther we went, the more I understood the sacredness of two words: mother land. Tears flowing down the cheeks of the expatriate, now back in motherland. His hair was dark black when he left Vietnam, and now it was a dewy gray. Vietnam generously embraced me in her arms, I cried because my mother's generosity did not reject me. I called silently in sobs: I'm back, mom!
When the check-in was done, I stepped out, and a warm breeze rushed past my body, a light-headed feeling like the breeze of the river behind my childhood home filled my being. A feeling like I've been liberated, now I have complete freedom to walk freely, without any obstacle blocking my steps. Before my eyes were people like me, waiting for relatives to return from far away. I want to run to hug them all, right at this moment, whoever you are. Regardless, I wanted to embrace you! I told the taxi driver to give me a few minutes, so I could breath the warm air. I wanted to enjoy the sweet feeling I've been longing for. I cried, cried a lot. I cried like I never had before. These are the tears I cried for my relatives and friends coming to pick me up today, and the tears for my hometown.
My heart was beating even faster now. Emotions were on high, and I let my emotions lead the way, it has been 30 years after all. When I was standing there to come to the US 30 years ago, it brought back my youthful passionate enthusiasm. On the way back from Saigon to my hometown in Long An province. That day Saigon city greeted me with rain, though it wasn't a downpour like the rain in the Central region, nor the persistent, cold as the rain in the North. Rain in Saigon suddenly came and went, as if it was toying with me like when I was a child. Reminding me of many moments of my life, the many childhood memories flooding my mind, like a film, a stream of the past, with happy parts, there are sad parts that can never be erased in my mind. I used to think that the thought of returning to my hometown was a pipedream, but now it is coming true.
The shimmering and fanciful scenes of Saigon city appeared before my eyes, much more beautiful and splendid than before. It's been 30 years. I changed, and so did Saigon. Long lines of cars followed each other, colorful lights sparkling on both sides of the road, lines of people rushed to work. The rows of tall buildings are running front and behind me. It was even more beautiful than the pictures I've seen online. A feeling of pride, happiness filled in me. That's my Vietnam. And it was truly a sight to behold.
I have an American citizenship, but I only have one homeland, where I come from. And now I'm back.
The small roads running into my house are no longer bobbing with duck-potholes, there is no scent of the young seedlings of the rice fields running along the two sides of the road. I remember when we used to swing around in wagons, to get to school on these roads. Now the road is dressed in a new, paved concrete shirt, with tall trees shining down the two sides of the road, looking like a vivid picture of the countryside.
As the car was going slowly to the head of the village, from afar I saw the figure of my sister waiting. I was touched and speechless, my sister was afraid that I would get lost because how much my village had changed. I remember 30 years ago, my sister and brother stood at this place to say farewell to us, I promised my brother that I'd come to attend his wedding day. Now, only my sister remains in this humble village, with my brother passing away. He's gone. Yet that smile still remained on her face, her strength still remaining after all this time. I hugged her, I tried to stop the tears but couldn't. Then I went to the altar to burn incense for my grandparents and for those who died.
My sister knows I love the food of the countryside, so she was prepared to cook for me every day. My uncles, neighbors and friends came to visit me as well. My hometown is here, and after so long I could finally see them in the flesh. It would be an understatement to say that I was overjoyed. There was no limit to all-night celebrations we had, we chattered about everything. I've never opened my heart so much!
Human love is the most precious thing. And it has become a staple of Vietnamese people that cannot be found anywhere else in the world. Vietnamese people are not rich in money, but rich in love.
There is a river behind my house, where the children usually bathe in it every day, which hasn't changed in the slightest. In the past, I used to bathe on this river with my neighbors. Just reminiscing about that made me wonder if I could meet them again someday. I remember every year after the harvest season, we went to the rice fields so we could catch rats to bake, and to fish tilapia and to cook for a soup. When the tide retreated, it left snails and crabs, and so we caught each one with mud covering our faces. Happiness was very simple at that time, our childhood during each floating season, with Eichhornia crassipes branches floating on the river. On rainy nights, we went together to light torches to cook green bean porridge. By the burning of a fire, the smell of snails, crabs, and shrimp filled the air, and together we enjoyed the strong taste of wine at the age of 15.
Some of my old friends now lived away from this village, and some have passed. So only a few friends visited me. We gathered to reminisce old memories, we ate and drank, and after we got drunk, we sang karaoke.
The old bicycle I used to ride to school was still at the corner of the house. Even though no one rides a bicycle anymore, the old bicycle still sat in the corner waiting for me to return. Now the bike was covered with a layer of dust, the trunk was worn out, and the seats had worn down with time. I took the bicycle out to oil it, cleaned it, and rode it on all the village roads. The bicycle was almost like that of an old friend to me, with all the years we've spent together. And even with all the time that had passed, I knew that even inanimate objects stored in this home were full of love.
In Vietnam I met relatives and friends from near and afar, and I didn't miss America anymore. Though I couldn't understand why. I've lived in America for 30 years, but I didn't have as many memories in America compared to when I lived in my hometown for ten years. Looks like my heart belongs to Vietnam.
However it was inevitable that all of the fun will end, and that we will have to part ways. And now that time had come, it was now time to say goodbye to relatives, friends, brothers. My heart felt choked, my feet didn't want to take any more steps, I felt like time stopped. The villagers hugged me tightly, and told me to stay healthy and to come back next year. I would like to thank my relatives, brothers and sisters, friends and nieces and nephews for cooking me meals full of love from my homeland, for driving me around the streets and the west provinces. I will remember and engrave this love forever.
Honestly I didn't want to leave them, nor to be away from home ever again. But that wasn't possible. As I got into the car, I saw that my sister was crying, and those tears that flooded her eyes made my heart ache. I promised her that I would be back as soon as possible. In life, the thing that scares me the most is the farewell, as that scene will creep into my every sleep.
After I left the village, I went to Saigon to stay for 3 days to prepare for the long flight back home. Saigon was pouring with rain during my stay, perhaps Saigon wanted to prevent me from going. Saigon saw off me with tears, she understood how I was at that moment. I've never found myself so weak.
My friends said that Saigon has the highest buildings in Vietnam. A Sky View landmark of 81 floors, surrounded by 17 magnificent towers. When the car arrived, I was overwhelmed by these monuments. Since I was a child, I dreamed that Saigon would have such a beautiful cityscape like the United States. And now that was a reality. I didn't want to miss the opportunity to experience the cityside so I rented a Landmark 4 apartment for a few days to fully experience Saigon. The landmarks are like the paradise for Saigon youth. And as I stood right in front of the window and gazed out at the panoramic view of the poetic city of Saigon, I felt so calm, serene even. Saigon from above was bustling with life, the city lights were scattered and created a beautiful display of what Saigon truly was. That night, Saigon was truly the beauty of life in my eyes.
The beautiful city of Saigon was shimmering and splendor, but I still saw the lives of the less fortunate below. The images of an old man trying to push an old bicycle to collect bottles, trash, and poor girls wearing wrinkled, torn clothes walking on streets still remain as clear as ever in my mind to this day.
Then it was time for me to leave, the flight brought along the feeling of a son about to part with his mother. My emotions once again guided the way, and my footsteps were heavy, the scene before my eyes was of tight hugs, wishes for a peaceful journey, and tears. One person left but the whole family remained, this scene was unique to Vietnam airports.
Sitting in the plane, all I think of was images of my motherland. The homeland makes us love each other. Yet why do we always miss it when we part and are away from each other, the most we miss are the memories of our village, families, relatives, neighbors, etc. It hurts to the bottom of my heart for expatriates like me, for our experiences are always similar in this regard.
I am writing this article during the Covid-19 pandemic of the world. The Corona pandemic is so dangerous, with so many people having died from the virus and many more testing positive. This year I cannot return to Vietnam as I promised to my sister and my hometown. I write with all my love of Vietnam, which I want to send to whole world in general but to all my relatives and uncles, Vietnamese people in particular wishes for good health and peace. I also want to send to the many overseas Asians, the expatriate people, wherever you are, to try your best to come back to your motherland, in order to experience, listen and understand love and to share it as well. Get rid of the hatred and to return to the motherland. Here, millions of hearts open their arms to welcome you back.
When I die, take me out to sea
The upstream water will push my body away
Across the sea is my homeland
Old bamboo groves are still green