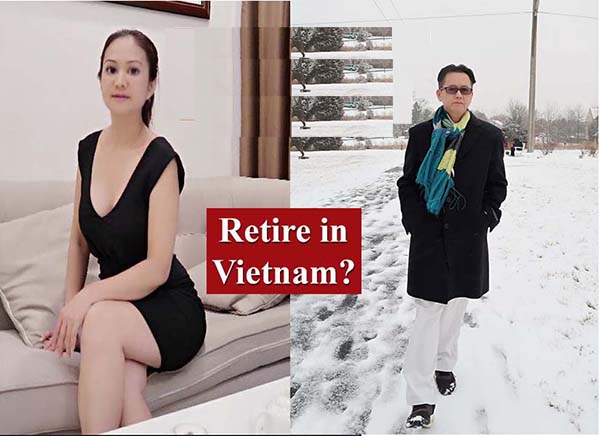 Retire in Vietnam? Is it worth the money for Retirees?
Living in Vietnam, if you have money, you can hire servants to cook, clean and take care of you. Life in Vietnam is relatively simple and comfortable. The cost of living in Vietnam is also lower than living in the US. Food that suits the taste, is lush, and the cost of living is cheaper than in America. You can enjoy the warm weather, friendly Vietnamese people, and so on.
Yet the problem is not so simple.
If you retire in Vietnam for the reason that costs are lower than in the US, Canada or Australia, then you should reconsider. Most Western people decide to retire overseas because they want to adventure, be curious, and explore other countries. The cost of living abroad may be cheaper than in the United States, but there are many other issues to consider, including adapting to foreign cultures, overcoming language barriers, and finding good and quality health care.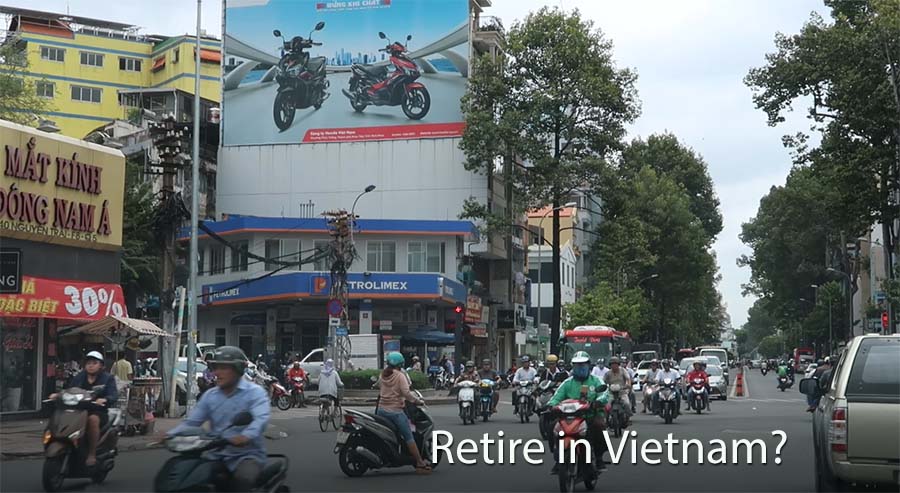 Click here to watch this clip that Tony talks about foreigners retire in Vietnam on Youtube.
As a Vietnamese, we have an advantage over foreigners, that we can speak Vietnamese and understand Vietnamese culture. When you retire in Vietnam, Medicare coverage for you in the US will end, and most Vietnamese healthcare system and hospitals do not accept US health insurance programs. So you need to pay in cash when going to the doctor, pay out of pocket, but I think medical services and the hospital is very cheap in Vietnam.
You should live close to a large metropolitan area so that you can find quality medical care. Get to know a city well before deciding to retire there. For example, understanding living costs is important if you are on a tight budget. Usually most Viet Kieu prefer to be near a place they have had many memories of, when they lived for a long time before settling in America.
Each place differs in cost of living. For example, in Binh Chanh, the cost is much cheaper than District 1 or Binh Thanh District in Saigon. If you have a tight budget, like only $1000 a month, convert Vietnamese money into 23 million VND a month, when living in Vietnam, you should live a little away from Saigon, the cost is cheaper. You can live in suburban areas like Binh Chanh, District 9, District 12, Cu Chi, Thu Duc etc.
Viet Kieu who return to their homeland are afraid that housing prices in Vietnam are now higher than their real values, not commensurate with the price they spend to buy houses. Road traffic is very difficult, the air is polluted because of dust and noise. That is why not many people want to stay in Vietnam full-time, but only intend to live in two arbitrary places. Because they have homes, children and health insurance where they live. So should I retire in Vietnam or not? What are your options? I have some experience sharing with you so that you can better understand when making decisions.
2 verses of the great poet Nguyen Du:
The scene, by its nature, was melancholic,
How could it be cheerful when one was in grief.
(Excerpt from the Tale of Ki?u – Nguy?n Du)
Indeed, sad people, sad love, is not love between men and women, but bigger, it is the love for the country that always dominates in the minds of expatriates like me who have not come back to father-land, mother-land. When people are sad, the scene will also be sad, watching the white snow fall, the snow petals flying by the window, I wish I could only touch my homeland with just one step. The scene here and I have been a soulmate for a long time. From the day I migrated to the United States 30 years ago, when I first saw snow, I thought I was ready to give everything to see it in my life. I happily raised my hand to catch the falling snowflakes. I thought to myself, people here are so fortunate to be blessed with a wonderful climate by nature, seeing the trees in the snow can see all the vitality of everything here.
It was so different from my hometown, Vietnam, sometimes the sun was as hot as a pan of fire that just wanted to burn everything, sometimes it rained heavily, rained down, poured all over the earth, and large water flooded the village, the poor hometown of my village. But now, I like that hot sun, like those heavy rains. How homesick I am now! I remember the poor rural district of Châu Thành in the province of Long An, the place where my childhood and adolescence went through, with many sad and happy memories of the childhood's age. Only that, but it exists in every night of my sleep. Perhaps the older we are, the more we remember to dream about memories, old memories, I miss old friends, I miss my first love.
It is true that human life, the journey of youth has passed, winter comes and goes, spring comes and goes, time keeps passing by, until our hair has become gray we want to return to the place where we were born and raised, to live the rest of the days with our family and relatives, to enjoy the warm atmosphere of our homeland. Live away from the mother-land is just a temporary life, then when the legs are tired, the knees are weasy, we will return to the old roof, with the familiar village road.
Currently, there are many Vietnamese people living and settling abroad, many people with the same mood as me, always cherishing the dream of returning to Vietnam to live the rest of their lives. Everyone has a different look and way of life, as long as we feel happy with the way we choose. This clip is narrative, I only speak of my own feelings, hope you do not criticize, compare that hurts others.
Guys! In recent years, many retired foreigners have come to Vietnam, one of the countries with a friendly living environment, not too expensive living standards, many delicious dishes and beautiful scenery, which is considered to be a worthy country to live. Vietnam is amongst one of good places to live in Asia, surpassing even Bhutan. Especially for Europeans who were tired of the cold of winter. They find a place with warm weather, one of the countries with the most comfortable life is Vietnam.
The weather in Vietnam is warm, with long coastlines running along the beautiful S-shaped country. Vietnamese people are friendly, open, approachable and kind. Vietnam develops every hour of the day, making many Vietnamese residing overseas want to return to Vietnam to retire. Most of them are people who do not like the cold in the west, do not like the blunt life, do not like the lonely sadness. They want to return to Vietnam to live the rest of their lives in the place where they were born and raised. To them, the luxurious life in the West is no longer attractive. Now the word Happiness is simple, they like to hear the sound of chickens crowing every morning, they like to hear the classifieds of street vendors, like to roam around street snacking restaurants, coffee shops along the street. , like to drink cold beer on the sidewalk.
That's my hometown, Vietnam, so happy, so popular, isn't it? It is the sounds, noise of street corners, winding alleys, and the offers of roadside shops that create a very distinctive Vietnam's character, that make everyone, wherever you live, you will remember the homeland of Vietnam.
The Viet Kieu (overseas Vietnamese) people who decide to retire in their homeland Vietnam, are the type of people who have feelings for the place they were born and grow up, so in the old age they want to live in their ancestral homeland, to be close to neighbors, relatives and friends. Especially being able to speak their mother language tongue, to live comfortably and naturally, to be free in their mother-land, which is nothing like that in the West.
It doesn't matter where you live, as long as you feel just enough, satisfied with your reasonable standard of living that you set is happiness. Delicious and nutritious food, low cost of living, being healthy, and having fast and perfect access to medical services, Vietnam is the destination of choice in the top 10 in the world according to the recently published US magazine rankings.
So how much money is enough to
"I return home and bathe in my own pond,
Regardless of whether it is clear or shallow, home pond is still better.
If you still live in Vietnam, then nothing makes you think hard to decide where you go. If you do not have a house available, you should rent an apartment in the big city to easily find quality medical services and to be safe. Buying and owning a home right away is a mistake because you will need time to experience whether Vietnam is the right place for you to spend the rest of your life or not? Nowadays, Vietnamese culture has also changed a lot, but human love and village love have not changed. Every morning at the beginning of the alley there is coffee, tea, and talk about hot stories. At noon we go home and rest, in the afternoon, we gather together to sing Karaoke, have wine or beer, and at night go home and sleep. Tomorrow we go fishing, the day after tomorrow is to play chess with old friends in the neighborhood. Life is just that simple, guys, yet how happy, close, full of love we get everyday.
Guys, this clip is narrative. I hope you will precisely decide whether you should retire in Vietnam or not. Everybody has different view of life and lifestyle condition.
Good luck and have a good day!