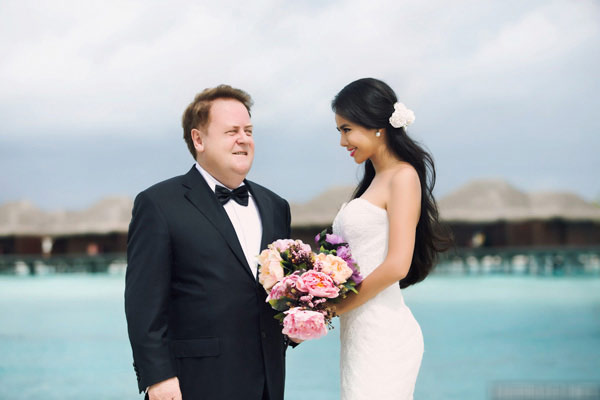 Reasons Vietnamese women prefer to marry Western men
Vietnamese women are pursuing to find Western men for love and marriage which has become a phenomenon in recent years. Vietnamese women, especially models, beauty, famous artists, rushing to get married with foreign husbands, or to be more specific, Western men. This article will list reasons why single men in the West or Western expats are chosen by many Vietnamese women.

Vietnamese women prefer to marry foreign men
Many Vietnamese women in Ho Chi Minh city (Saigon city) or those oversea Vietnamese women in the US, Canada, Australia and others countries are looking for Western men for marriage. That's sad for Vietnamese men.
There are many articles disparaging Vietnamese men compared to Western men, blaming them for the current 'Vietnamese beauty bleeding' phenomenon.
Foreign men are more romantic than Vietnamese men, they care about spirit and feelings of the woman they love. As for foreigners, they always want to know about how you feel, why you're sad so they can share with me.
Vietnamese men are often more cautious than foreign men, when they like a girl, they don't dare to say it frankly and they lose their chance with her. Vietnamese men are not confident because they are afraid of being rejected. They waited for a long time until 'the boat was built' but it's too late.
Western men are not patriarchal. But perhaps, the reason that many Vietnamese women who have married foreign men agree with each other is that Vietnamese men still seem to be patriarchal. This is reflected in the unwillingness to share with his wife daily household chores such as taking care of children, or more simply cooking, washing dishes, and so on.
The story of raising children or cooking rice, washing dishes, in the eyes of Asian women and men, it is obvious that these things are women must do. So it is seen that, many Vietnamese women resigned to the imposition of the husband in the family, although in a certain aspect of society such as making money, the woman may be better, but about the family, the woman is only secondary. "
For Western married women, there is another sizable difference between Vietnamese and Western men, which they see as the reason why they marry foreigners. That is the thinking of a Western husband who seems to be more open-minded than a Vietnamese husband.
Foreign men are more open, they sympathize with the woman they love. They do not have the backward thought that women have to do this, have to do that, must listen to the men of the family.
Respecting a wife's past is probably not easy for many Vietnamese men. Speaking for one thing, whether his wife is a virgin or not, but up to now, it is still hotly debated from rural to urban. Many Vietnamese husbands still have to torment, thinking about whether to continue their marriage with their wife after discovering that their wife has slept with others before knowing them.
Socially developed, the role of Vietnamese women has gradually improved. Today, one can see that Vietnamese women have participated more in social activities, becoming very successful people. But when talking about women, in Vietnam, people still often use the American word 'good at domestic work, taking care of housework', implying to affirm the indispensable role of women in jobs in the country. Meanwhile, the role of the man in the family is still mainly considered as the one who earns money to support the family, but the care of children, laundry, and meals is of course still the woman's job.
The disrespect for women and paternalism is rooted in the culture of East Asia, in the culture of East Asians, the position and role of women. Although women are confirmed through poetry, people are still not in the leadership position of a society, so in the eyes of Asian men in general and in Vietnam in particular, the position of women The female is secondary. Since it is secondary, the man thinks that he does not care or sees himself as having special rights over the woman.
In the eyes of Asian men in general and Vietnam in particular, the position of women is secondary.
Getting married is a lifelong affair. Whether getting married to a Western or a Vietnamese husband, Vietnamese women only want happiness. Society is developing day by day, and the Vietnamese people consider the story of getting married to Western people as 'The industry of getting married to the West'.
Women now participate more actively in social activities, so they have many opportunities to make friends both the West and Vietnamese men. Therefore, it is probably not strange that more and more women get married to Western men.