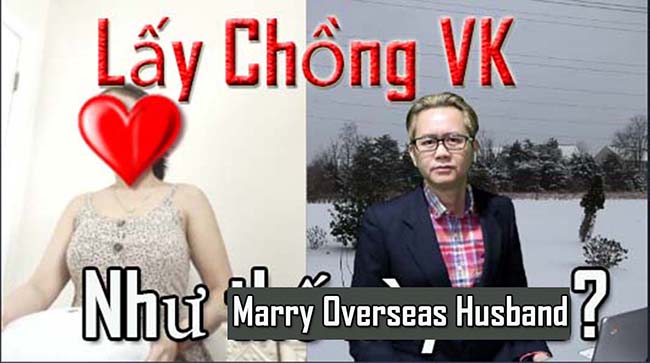 Are Vietnamese women marry overseas foreign men really happy?
Currently getting married to overseas foreign men is no longer the fashion of 10 years ago. But it is still a hobby and a need of many Asian women. Especially women with difficult circumstances, divorced women, single mothers who want to escape from old memories, ex-husband, or women not interested in dating and marrying men in their homeland. If getting married to overseas men was the dream of so many Asian women, now there are many things that they have to consider: what are the benefits and losses of being a overseas bride? Pleasure or misery? Happy or sad? How is life going to be?
Hi everybody! My name is Tony Tran, I am a Vietnamese-American residing in the US for 30 years, I have designed Vietdating.us online dating website since 2003 and a dating App for several years to connect singles with each other, especially overseas Asian men who have not conditions to get married. I've seen how overseas Asian brides live, so today I invite Mrs. Anh Minh to share her life with you. She has settled in the US for several years. Now, please listen.
Anh Minh:
I live in Ca Mau, Vietnam. I work as an employee. My hometown's specialty is Ca Mau crab, which is very famous in Vietnam. When you go back to Vietnam, please remember to visit my house, my family will welcome you, you will like it.
Tony:
Yes, thank you Minh. I'll keep your kindness in mind. When you still live in Vietnam, When do you intend to marry overseas husband, why do you like American life, do you have relatives in America? Can you share with everyone how you get married and become an overseas bride in America?
Minh:
You know what, Tony? Every time my neighbors have overseas people come back to visit their family. They look very classy and beautiful. Their skin is white and pink, they wear nice clothes, their hair highlights, they are too luxurious, so I dream of getting to know a Viet Kieu to come to America. I have no relatives in America. Is my dream far away to reach?
I have some co-workers. They are already married and have gone overseas. They introduced me to online dating websites to find single men. I have registered a profile online, hoping to find the right person. When I registered on the VietDating. us, after 2, 3 weeks, there are many overseas men contacted me to get acquainted, there are overseas Vietnamese and foreigners. I was fortunate to meet a good person who is now my husband. He is 7 years older than me. He is very gentle and suits me in every way. He knows how to share the chores with me. To tell you the truth, Tony, now I feel very lucky to meet him. So I also did not ask for anything more.
Tony:
Uh, Listening to your story, Minh, I guess you were lucky, you've found a very good overseas person. So at that time you broke up with your ex-boyfriends in Vietnam. In fact, there're good and bad men in each country. Looks like you like the streak of overseas men, right?
Minh:
Ah, I tell you the truth, I hope you guys won't be "throwing stone" at me. Overseas Asian men are very different from local men in Asia. I don't know other people's situation. As for my husband, he helps his wife do all the housework, such as picking up the children, helping his wife to cook, cleaning the house. At ease he goes to the market and cooks for the house.
Tony:
Ms. Minh can you share when you two know each other and at the wedding in Vietnam. How long did you two know each other for the wedding? When did your husband open the petition file? Please share more about when you interviewed at the Consulate, when you received your VISA, how was your feeling, did he come back to visit you?
Minh:
Yes, when the wedding was over, he went back to America and started making petition papers. About 1 year later, I received the interview letter from the consulate. I went to the interview alone because my husband was busy from work, so he couldn't go back. He told me when I passed the interview, he'd come back to take me to America with him. When I got my VISA, you know what, Tony? I'm so happy. My dream has come true. My husband came to Vietnam and led me to America.
Tony
So your husband came back to take you to America. Please share when you board the plane over America, how do you feel? happy or sad? When you came to America, how did you feel? Are the sights or roads in the US different from those in Vietnam?
Minh:
Yes, when the plane took off, I was very happy, because I was with the person I love. But I was a little worried about my life? I started a new page of life. I'm a little sad because I'm away from dad, mom and siblings. You know what, Tony? When I came to America, it was spring, so the weather and scenery were very nice. On both sides of the road are trees and flowers blooming, and I seem to get lost in the flower garden in Da Lat. The road is very clean, spacious, with 4 lanes, that is much different from Vietnam. Americans are polite.
Tony:
How do you feel after you came to America? I think that maybe you'd miss Vietnam a lot during the first days of living in America. Please share more about life when you first arrived in the United States.
Minh:
In the first few days, my husband had not worked yet, so he drove me out. After that, he went back to work, I stayed at home alone, and I felt really sad. I miss my dad, mom and siblings, friends. I miss Vietnam so much. I wish I had money I would buy a plane ticket to Vietnam. Do you find it funny? I remember every afternoon in Vietnam, my friends and I went to eat snails, ice cream, and baked rice paper, it was fun, Tony. After that, my husband drove me out on weekends, shopping, at that time, I did not expect the shopping mall in America to be so big and beautiful. We also went to the Vietnamese business center. Here, everything is available for sale. They also sell Rice Vermicelli Soup which was just as delicious as Vietnam.
When I got a green card, my husband signed up for me to learn English and learn the driving permit. When I know how to drive, then I go to nail training class to get a license. After 3 months, I have a nail certificate, I work at nail salon. I was doing nail while studying English.
Tony:
Can you let everyone know what job you looked for and how to go to work, Ms. Minh? Many people say that life in America is very hard to have money. In your opinion, how is your life in the US compared to when you were working in Vietnam.
Minh:
I do nail work, earning about $ 2,000 to $ 3,000 a month, plus tips that I use for the market to buy food for my family. Compared to life in Vietnam, America is much better. We all go to work, we don't waste money, we can buy everything we need, so we can save money. Ah, Tony, I'm telling you the good news, we just bought a three-bedroom house.
Tony:
Congratulations.
Ms. Minh, maybe you like America so that's all. There are also many women who marry overseas Vietnamese American men, they also shed tears more or less. Because each person has different circumstances. In Vietnam, we are more relaxed in our minds than in America. When you come home from work, you can drive your motorbites out to eat, but in America you don't have such free time. We have to go to work all day.
Minh:
Tony, in America it's sad for the elders. We work all day to make money, so we don't have time to be sad. For me it is fun to go to work, because when I go to work, I will have money in the afternoon, so I'm not sad.
The weather is cold in the state I live in, but I like it very much. In America, there are four distinct seasons, cold weather is only three months, so I feel comfortable. Our life is busy, we don't have free time like in Vietnam. One Sunday off every week, my family cleans the house, cooks, goes shopping, sometimes goes out to eat with friends, to talk, hiiii
Tony:
Mrs. Minh, let me ask this question: would you please say briefly, personally, you married an overseas Vietnamese American man and live in America for a few years, happiness or suffering, what can you gain and lose? Please share.
Minh:
I think everyone has different tastes and different circumstances. For me, I really like living in America. In America, I am busy but has a high income. Life here is fully material and civilized. Women and children are respected, and students can study for free until 12th grade. Adults are subsidized, and health insurance is free. Like my father and mother-in-law, they receive a monthly retirement income of about $ 900, free health insurance. I don't understand why many people leave the United States and return to Vietnam to live, and I prefer to live here. The weather is cool and clean, so marrying an overseas Vietnamese American husband gets me everything, and nothing to loose.
Tony, when the covid pandemic is over, and we have the vaccine, we invite you to come over to my house to thank you. Thanks to you to design VietDating.us, the online dating app, we met and got married. Wishing you much health, success and happiness. See you again.
Tony:
Yes, thank you Minh. Hi everybody: I designed Vietnam dating app and online dating VietDating.us for a long time, has connected many couples in Vietnam and abroad. People think that any bride who is sponsored by her husband to come to America because of the green card or American citizenship. But not so sure, life in Vietnam now is much better than before. I heard that some husbands sponsored local rich women in Vietnam over but they refused to come to America, preferring to stay in Vietnam. Some women are happy and used to it, they are afraid of suffering and sadness in America, so they don't want to go anywhere. They prefer to be in Vietnam. They have coffee in the morning, then go to work, take a nap and rest in the afternoon to go to work. Look back and forth at the end of the day, come home in the evening to eat, go cafe with friends and sleep. Is it true that living in Vietnam is the best! Just work and relax without getting rich, without going to America? If they have money, they can travel to America, France … other countries. Not for residing abroad. They just like to live in Vietnam more. But love is hard to say, love always has its own inexplicable reasoning. If you love someone, as far as halfway around the world, you can still find each other as a fate, arranged fate. Then you will think that you guys live for each other, for each other.
Every marriage has waves, challenges, the impact of external factors. But if you really love each other sincerely, you will overcome everything, then there is no definition and loss, but everything will be too easy for you. So the line between marrying overseas Vietnamese men and local Vietnamese men is no longer a prejudice or definition. If you are a young girl in Vietnam, or an old overseas man, when coming together, I advise you: to be honest at first getting to know each other. There are many young women who get married to old Vietnamese American husbands, but they do not break up with their husbands, because they think that he has helped their family too much, helped them to go abroad to have the opportunity to work and make money. they are also blessed with benefits in America, helping them to change their fate.
I want to send a message to everyone, to have an happy family journey in a long time, the couple must adhere to the following principles: Respect each other, love each other, trust each other, help each other, forgive each other, yield to each other and understand each other.
Thank you, Anh Minh.
Thank you everyone.
Have a good day, peace and happiness.