Wedding Ceremony For Vietnamese Brides and Bridegrooms
Vietnamese wedding is really different from Western weddings. If you're curious about how a Vietnamese wedding ceremony happen, then you should continue reading this article. Most of Vietnamese brides and bride-grooms do the same. It does not matter where they live, Vietnamese women and men follow the same traditional wedding ceremony. Wedding of Vietnamese people are traditional and ancestral that delicate in its own ways.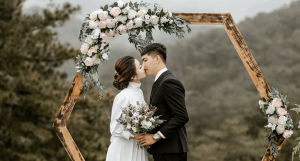 First of all, after a Vietnamese girl and boy fall in love with each other and decide to engage. This is the first part in getting to marry with each other. Engagement is the most exciting step that takes place about six months to a year before the wedding day. On this event, the Vietnamese brides and grooms meet face to face, along with the parents, siblings of the two sides. They wear the rings for each other.
Vietnamese women and men have arranged their wedding ceremony very seriously. Both of the parents and relatives of twos sides are invited to come to celebrate this important day of the bride and groom. They usually come to see a fortuneteller for the best time and date that match with both the year, month, and day they were born. Sometimes you see the groom's family, relatives and friends walking on the road to come to the bride's house in the middle of night. This is because that time is the best for both of them.
On the wedding day, the bridegroom's side prepare for the gifts for the bride's place. The leader of the bridegroom's side will do the speaking of the ceremony. Gifts and food include jewelry, wine, tea, cakes, fruit, betel and roast pig. Vietnamese wedding ceremony always have the traditional custom by seeking permission from deceased ancestors. They burn the firecrackers and put on the ancestor altar. Both the bride and the bridegroom serve their parents with tea and wine.
So, that is a brief description of the Vietnamese wedding ceremony in Vietnam. But in the Western countries like USA, Canada, etc, Vietnamese people still organize their weddings that are similar to that. Whether they live in Vietnam, or in the West, Vietnamese people always keep their traditional customs, which is good.
So, that's the Vietnamese wedding for bride and groom. For more information, you can seek single Vietnamese girls and men at free Vietsingle com dating site.