My name is Tony Tran, a Vietnamese American. I was born in Saigon, after 1975, I moved with my family to Chau Thanh district, Long An province (Tan An). In the 1990s, my family moved to the United States under the HO category. Like many other Vietnamese, in order to survive in a foreign land, we all had to work different jobs, such as lawn mow and waiters for restaurants. First, I had to learn English to integrate with the life here. Some time later, I understood that to become a successful person in the richest civilized country in the world, I had to have knowledge, meaning I had to go to school to get a degree.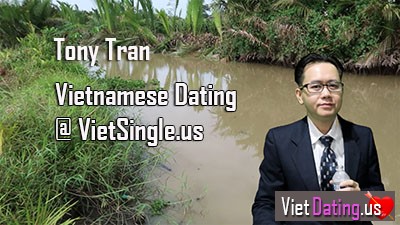 Not only in the US, English language is an open door for you to go anywhere, which is the key to success and this is an opportunity for you to move forward. When I was in Vietnam, I was a student with average academic ability, coming to America, I thought I would work as a factory worker or a common labor. But perhaps studying here is easier, so I worked and earned money while studying at the same time. Finally in 1999, I finished Bachelor degree.

While working and studying at a university in the United States, I also had a hobby of playing guitar, singing karaoke. Spring has come and passed, summer has come and passed, I miss Vietnam so much, relatives, friends, and lover. Yet time like space shuttle, blink of an eye has passed adulthood with the experience of friendship and loneliness. If loneliness and tears could be exchanged for money, I would be very rich now. When I'm sad, I play the guitar by myself. In a foreign land, I do not know how to confess my feelings and should borrow the piano instead of what I want to say.

I graduated with a bachelor's degree in 1999 and worked at an IT company for a few years. At that time, the US only used the Internet network connected to the home phone line, every time I used the Internet, I could not use the phone. So the dream of cherishing a single club was always smoldering within me. In 2003, I started to realize my ideal: online dating for singles. Find friends online because the internet here is strong. Vietnamese dating site Vietsingle.us was created. In the early days of starting this dating site, I received a lot of joys from my friends, the members of the web said that they had found their love. Many Vietnamese girls are married to overseas Vietnamese men and Western men, who were settled in some countries such as: USA, Australia, Canada, France, etc.

We live in an era of 4.0, a flat world, what's happening in the world? What are you doing, just a smart phone is a online world is in your hands, only you are the only one making that decision, your future is in your hands, Tap, swipe and type in Google to search the web: Vietsingle. us. Get action now.

Vietnam dating website currently have more than 100,000 members joining, many of people sent me letters after finding their partners on this dating club. You can read some success stories here.

We are economically independent, we have the freedom to choose, even the freedom of personality. But biologically we are all human, we have a loving and romantic heart. With money but without love, we still live well. Love is not oxygen, but love has wonderful things, it can change you perfectly, it can make you do crazy actions to make others happy, love has its own definition. So those who still worship celibacy should be open to something new, every day you just need to do a little for yourself, no need to spend too much time on dating. So where to find, who to love, and so on?

At the age of 18, you think you are young and beautiful, you have the right, the level of asking for your own partner is so high, all must be perfect 10/10. But through the age of 23 you drop to 8, at 26 you see no one cares about you go down to 6. By 28, you break without limits and start to chase love. But do not worry, there is Vietnam dating site that helps you choose that special one. You do not need to go out to search, just go to google and type Vietsingle. us, there will be us always here to help you.

Dear friends, in this 4.0 era the opportunity to find partners around the world is no longer a difficult. Just sitting at home, with your smartphone in hand, you still have the opportunity to get to know many people across the continent easily. It does not take too much time for you, just a few seconds, try once to create opportunities for yourself, you go to google type Vietsingle. us are you will meet many perfect choices, a online world in your hands, a world of colorful love for you. It only takes a few seconds to sign up a profile and get started. Just every day you spend a few minutes at a certain free time, dedicate a little love privately to your life to send others messages, and you will find a perfect life partner.

It was human that created like that! We have the heart to sob, love, tremble, sacrifice for each other, love always has its own reasons, you can not explain why. My life, my happiness is my choice. You should remember one thing: Someone can help you, eat for you. But in love, no one can help you, because each person has only 1 heart and lives only 1 time, nobody lives 2 times, guys. So I advise you to live a life that worth a living.

Every day I go to work for 8 hours at an IT company, after work, I go home programming the website to 2, 3 My greatest happiness every day is when I receive a message from the member saying that they have found a lifemate on my website. All my dreams, my ambitions, all my hard work, my achievements have come true. I work for passion, because I want everyone in this world, everyone who is born to have love, to find the other half of life. There are many happy couples who sent me letters of thanks. I love that.

I know that having worked online to connect lonely hearts and broken hearts all over the world to connect with others is my hobby. I'm working for passion. Every day I received messages from successful couples that made me happy. This is my greatest joy and happiness every day.

I want to tell you that, whether 50 years or 70 years later, at a far away city, a grandpa or grandmother tells their children and grandchildren: in the past, they have knew each other on on Vietnam dating site of Tony Tran. Oh I'm very happy, even though at the time I was deep underground but my soul is very happy.
There are other Vietnamese dating sites from all other the world, I think you should Viet single to see the excellent results.
My name is Tony Tran.
I wish you all luck.